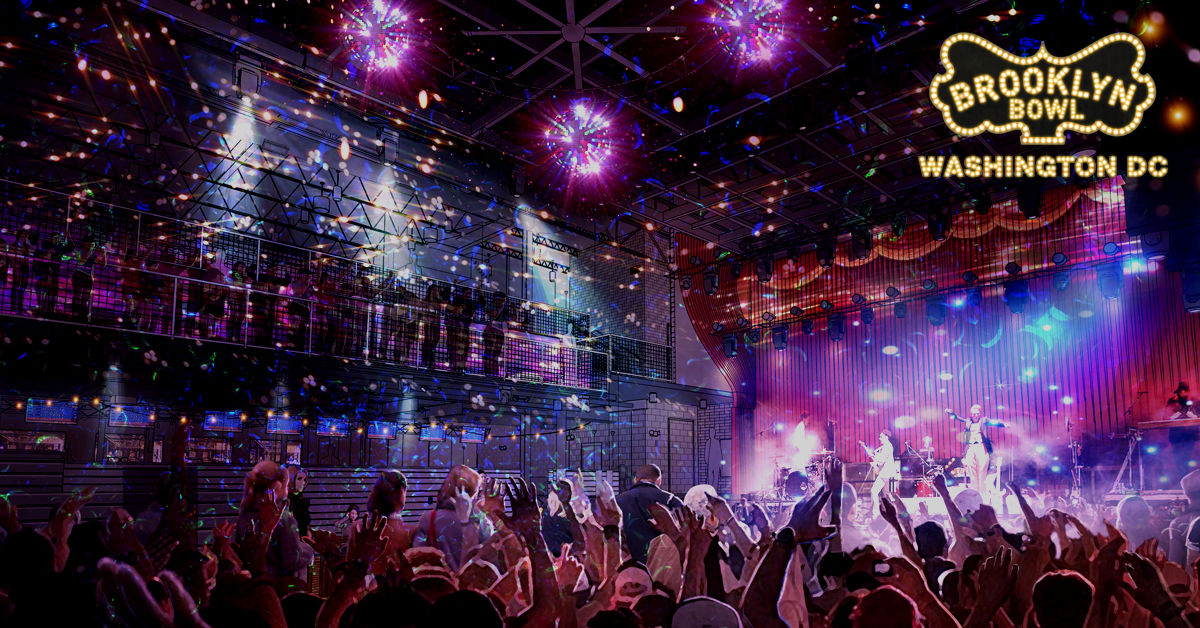 Today, Live Nation and Brooklyn Bowl announced plans to add a Brooklyn Bowl location at Parcel B at Audi Field in the Buzzard Point neighborhood of Washington, D.C.
Brooklyn Bowl DC will be the brand's first location in the DC metro area and the fifth location for this venue, which first opened in Brooklyn, New York in 2009. Featuring a 1,200-person capacity concert venue, Brooklyn Bowl DC's 38,000 square-foot location will bring to the District a broad mix of live music programmed by Live Nation, 14 lanes of bowling, a craft bar and a menu curated by New York City's Blue Ribbon Restaurant Group. With the incredible proximity of the bowling lanes and concert stage, Brooklyn Bowl DC will offer a unique experience of enjoying a show while eating, drinking and bowling with friends.
"We're really thrilled to see Brooklyn Bowl be part of this great development in the District," said Peter Shapiro, Brooklyn Bowl co-founder. "After bringing Brooklyn Bowl to two new locations in 2021, we know that the time is right to bring this innovative concept to the D.C. area."
Boasting a wide array of musical acts spanning multiple genres, Brooklyn Bowl DC's live entertainment programming will offer something for everyone, from multi-genre national touring artists to New Orleans brass bands, hip hop legends, world music stars, dance parties and Bob Marley inspired "Rock and Roll Playhouse" weekend matinee shows for families. The venue's thoughtfully designed spaces will be easily customizable to accommodate private events of various sizes.
Brooklyn Bowl DC is the first announced retail concept at Hoffman & Associates and D.C. United's dynamic mixed-use development Parcel B at Audi Field. It will connect the ground and second floor while serving as an anchor for the double-sided retail and entertainment corridor between Parcel B and Audi Field. The celebrated live music venue, featuring both bowling and a full-service restaurant, will activate the center of the neighborhood enhancing the space and attracting residents as well as visitors to the city.
Once open, Brooklyn Bowl DC will join Brooklyn Bowls in Brooklyn, NY, Las Vegas, Nev., Nashville, Tenn. and Philadelphia, Penn.
For more information about Hoffman & Associates, please visit www.hoffman-dev.com. To learn more about Brooklyn Bowl, please visit brooklynbowl.com.
About Live Nation
Live Nation Entertainment (NYSE:LYV) is the world's leading live entertainment company comprised of global market leaders: Ticketmaster, Live Nation Concerts and Live Nation Sponsorship. For additional information, visit www.livenationentertainment.com.
ABOUT BROOKLYN BOWL
"Brooklyn Bowl blows our minds," writes Rolling Stone about the world class music, food, and bowling offered at the state-of-the-art venues. With four locations across the US (Brooklyn, Las Vegas, Nashville, and Philadelphia), Brooklyn Bowl provides the ultimate night out. Regularly honored on local magazine and industry "Best Of" lists, the venues have been named "#1 busiest club in NYC" (Pollstar), "Best New Venue" and "Best Bowling Alley" (Nashville Scene), "Best Venue" (Las Vegas Weekly), while earning accolades like "rock and roll heaven" (Village Voice) and praise for amenities and sound "no other club can offer" (The New York Times). Brooklyn Bowl has introduced a groundbreaking integration of premiere music, expansive bowling, locally crafted beers, and an exquisite dining menu from the acclaimed Blue Ribbon Restaurant Group (called "epic" by Eater). Each venue is committed to locally made products and environmental sustainability (including the world's first LEED-certified bowling alley), offering an unforgettable experience "like nailing a spare on a four-ten split" (The New Yorker).
Media Contact
Live Nation Venues Media Contact:
Christina Karas, [email protected]