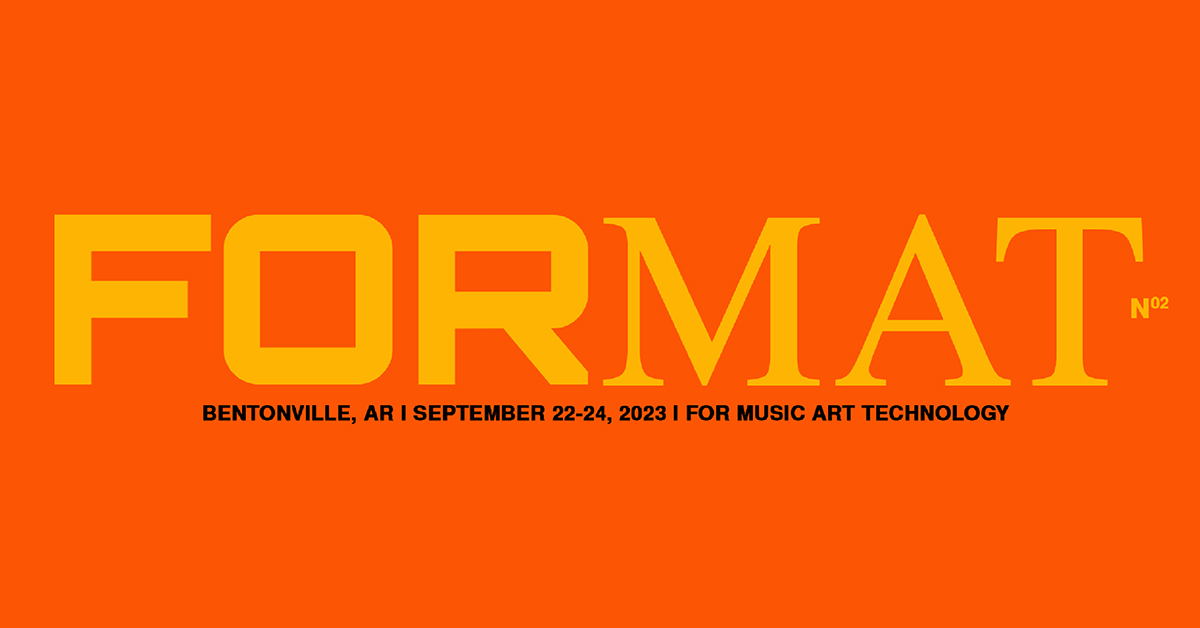 FEATURING LIVE PERFORMANCES FROM ALANIS MORISSETTE, LCD SOUNDSYSTEM, LEON BRIDGES, MODEST MOUSE, JAMIE XX, TASH SULTANA AND MORE, AS WELL AS INSTALLATIONS AND ART EXPERIENCES BY WORLD-RENOWNED ARTISTS INCLUDING GUERRILLA GIRLS, JR'S INSIDE OUT PROJECT, JEREMY DELLER, RAGNAR KJARTANSSON, KAMEELAH JANAN RASHEED, AND MANY MORE
PRESALE BEGINS THURSDAY, APRIL 6 AT 10AM CT
FORMAT Festival 2022
FORMAT has announced its 2023 return including an incredible lineup featuring Alanis Morissette, LCD Soundsystem, Leon Bridges, Modest Mouse, Jamie XX, Tash Sultana, Big Wild, Little Simz, Bob Moses, Poolside, Channel Tres, Paul Cauthen and many more, along with unique performances, installations and art experiences from world-renowned artists including Guerrilla Girls, JR's Inside Out Project, Jeremy Deller, Ragnar Kjartansson, and Kameelah Janan Rasheed. The otherworldly three-day celebration converging the most influential minds in art, tech and music will take place September 22-24, 2023, on the private Sugar Creek Airstrip in Bentonville, AR, in the heart of the Ozarks. The 2023 Presale begins Thursday, April 6 at 10 AM CT. Fans can sign up for a presale code to get first access to 3-Day and 1-Day Tickets at format-festival.com.
Located on 250 acres of forest-enclosed green land, just six minutes outside of downtown Bentonville, FORMAT will deliver a full-sensory experience. The festival will have two traditional live music stages, as well as several less conventional settings where musicians will perform, including The Cube, Drag Me To The Disco, Next Door | Nova Heat and Smokey's. Underground discos and stages tucked in the forest will accompany world class installations and artist commissions. In addition, FORMAT will be a haven for exploration, including an expanded Bizarre Bazaar (curated food vendors, retail, experience booths and more), along with experimental soundscapes, light shows, therapeutic workshops, and uniquely integrated technology activations.
Drag Me To The Disco
The Cube
This year's art program features free-standing and large-scale installations, artist-designed music venues, and a rotating video art program inside The Hangar. Highlights include:
Guerrilla Girls: I'm not a feminist but if I was — The anonymous female artist activist group will present a new large-scale installation that includes their iconic, interactive wall work, which exposes gender and ethnic bias and corruption in art, film, politics, and pop culture. To accompany the work and their onsite participation, Guerrilla Girls will host additional activations at partner venues the Momentary and Crystal Bridges Museum of American Art to spark conversation and raise awareness in the wider NW Arkansas region.
JR's Inside Out Project — JR's Inside Out Project, a global participatory art project which helps communities stand up for what they believe in and spark change, featuring black-and-white portraits of community members that will be plastered on the festival site.
Kameelah Janan Rasheed: Smokey's — Kameelah Janan Rasheed is a learner invested in Black storytelling technologies that compel audiences to consider ways of [un]learning. Rasheed will present a new commission for FORMAT's Smokey's venue, transforming the main late night forest oasis with her powerful imagery and words.
ISTANBUL'74's Flags for Future — Flags for Future is a sustainable art project featuring 30 limited-edition artist-designed flags created from upcycled plastic waste. Presented by ISTANBUL'74, a leading art platform known for organizing the IST International Arts and Culture Festival, and curating global exhibitions and public installations, this project supports earthquake relief in Turkey and Syria while raising awareness of plastic pollution. Participating artists include David Adjaye, Krista Kim, Robert Montgomery, and José Parlá. Flags for Future is realized in collaboration with Utopia.
serpentwithfeet: Heart of Brick – Brooklyn-based experimental musician Josiah Wise, known professionally as serpentwithfeet, conceived a live theatrical dance show choreographed by dancer Raja Feather Kelly and directed by filmmaker, artist, and performer Wu Tsang at the South of Oz stage on Sunday, September 24.
180 Studios Presents Ragnar Kjartansson x The National and Jon Rafman — London's creative epicenter 180 Studios presents two video works rotating daily inside The Hangar by Ragnar Kjartansson x The National and Jon Rafman. A Lot of Sorrow (2013-2014) is a video work of a live recording of a performance held at MoMA PS1 in 2013, in which Kjartansson invited The National to perform "Sorrow," a nearly four-minute ballad on repeat for six hours straight, uninterrupted. Jon Rafman's Minor Daemon: Volume 1 (2022) presents a computer- generated fever-dream universe, drawing on landscapes of online worlds to examine the relationship between technology and social consciousness.
The Modern Institute Presents Jeremy Deller — Jeremy Deller is a conceptual, video, and installation artist whose maverick approach as an "instigator of social interventions" utilizes historic events and archives as a resource, creating complex performative and participatory works. Presented in collaboration with Modern Institute, Everybody in the Place, An Incomplete History of Britain 1984-1992 (2018) explores the socio-political history and contemporary legacy of the 'Second Summer of Love' featuring rare and unseen footage. Also on view, Deller and Nick Abraham's 2006 documentary, Our Hobby is Depeche Mode tells a story of resolute faith and devoted fandom; a bizarre, funny, sad and often touching reflection on how people intimately embrace and appropriate pop culture in their own lives. These works will be on view in The Hangar.
Atelier Sisu: Evanescent — Award winning Sydney-based Atelier Sisu is led by Peruvian sculptor and industrial designer Renzo B. Larriviere and architectural designer and artist Zara Pasfield. Evanescent is a larger-than-life bubble artwork standing at nearly 30 feet tall, inviting viewers to walk through the structures which are iridescent in the daylight and illuminated in darkness.
Danielle Hatch: Bar Installations & Live Performance — Local Arkansas artist Danielle Hatch will transform and dress FORMAT's onsite bars using colorful textiles that reference domestic interiors. In collaboration with composer Amos Cochran, Hatch will present ALL THE SOARINGS OF MY MIND BEGIN IN MY BLOOD, a performance piece that ritualizes and reconnects audiences to the physical and psychological journeys of female ancestors.
Returning artists include Jonah Freeman and Justin Lowe's multi-room speakeasy venue, Next Door | Nova Heat; East African artist Uman's scrim design for The Cube; Maurizio Cattelan and Pierpaolo Ferrari's TOILETPAPER Magazine's Drag Me to the Disco barn; the Bizarre Bazaar, a maze of curated retail, food, and beverage vendors; Marinella Senatore's 700-foot-long light sculpture installation; and assume vivid astro focus's interactive sculptures.
Visuals and branding for the 2023 edition of FORMAT are created by San Francisco-based artist and award-winning creative director, Simon Parmeggiani. Under the artist name Neptunian Glitter Ball, Parmeggiani brings to life his uncanny valley storytelling side, building a surreal AI world that seamlessly blends with everyday life, infusing it with fun and unpredictability. Through meticulous engineering and granular attributes, Parmeggiani has achieved an unparalleled level of control over AI- generated outputs, offering a glimpse of what things could look like, in a slightly shifted, glitchy dimension.
3-Day General Admission, GA+, VIP and Platinum Tickets, as well as Hotel Packages, will go on sale Thursday, April 6 beginning with an SMS Presale at 10am CT at www.format-festival.com/tickets. Add more luxury and access to your experience with a premium festival ticket. GA+, a new ticket type in 2023, offers a private retreat with shaded seating and air-conditioned bathrooms. Elevate your festival weekend further with VIP, which includes additional amenities such as dedicated viewing at the two main music stages. Platinum offers the ultimate FORMAT experience with exclusive stage viewing, private lounge, all-day, all-inclusive dining and beverage service, exclusive merchandise gift and more. 1-Day Tickets will also be available for purchase during the SMS presale and public on-sale. More information about each ticket type and amenities included are available at www.format-festival.com. Vibee, FORMAT's exclusive VIP Hotel Experience partner, will provide packages including festival tickets, a private shuttle, four nights' stay at the art-centric 21C Museum Hotel, commemorative merchandise, plus a private welcome reception. In addition, FORMAT has expanded its robust shuttle system this year, adding shuttle locations in Fayetteville, Lowell and at the Momentary to provide easy transportation for patrons to and from the festival grounds.
As part of FORMAT's commitment to the local community, the festival proudly chose Bentonville Public Schools as its charity partner in 2022. In the festival's inaugural year, FORMAT contributed more than $100,000 to BPS, and we are pleased to announce that they will be the chosen charity recipient again in 2023. In addition, FORMAT is committed to fostering local talent and has created multiple ways for the community to participate in this year's festival – everything from providing an open call for local artists and musicians to contribute their work, to the annual Entrance Gate competition, a new partnership with the University of Arkansas where students will be able to collaborate with FORMAT, and much more. In addition, local artist Danielle Hatch will transform FORMAT bars into art pieces, as well as present a performance piece during the festival.
FORMAT is presented in official partnership with OZ, which offers a remarkable collision of outdoor adventure and unexpected art encounters, and in collaboration with Crystal Bridges Museum of American Art, Bentonville's unparalleled museum of American art, and its satellite contemporary art space the Momentary. Crystal Bridges Museum of American Art and the Momentary will host a series of morning and midday programs from Friday – Sunday which will include tours, events, talks, workshops, and food & beverage offerings for festival attendees. On September 21, the Momentary will host the annual kick-off event for FORMAT.
FORMAT is produced by C3 Presents and TRIADIC. Additional official partners include the international creative hubs 180 Studios, Istanbul'74, and CACHE (the Creative Arkansas Community Hub & Exchange, which works with creatives, communities, and organizations throughout Northwest Arkansas).
The 2023 edition of FORMAT is generously sponsored by Tito's Handmade Vodka and Rambler Sparkling Water.
###
About C3 Presents
C3 Presents creates live experiences for millions of fans across the globe, setting the new standard each year for events that are as memorable as they are spectacular. One of the world's largest music festival producers, C3 is the force behind some of the world's most iconic multi-day festivals including Austin City Limits Music Festival in Texas and Lollapalooza in Chicago and its six international editions — drawing a combined 2 million music lovers annually. The current event roster also includes Bonnaroo Music & Arts Festival, Innings Festival, Shaky Knees, Austin Food + Wine Festival and many more.
About TRIADIC
TRIADIC is a creative house that sits at the forefront of arts and innovation. Led by the festival's artistic directors and co-curators Mafalda Millies and Roya Sachs, and producer Elizabeth Edelman, TRIADIC specializes in the conception and execution of unprecedented cross-disciplinary collaborations and events. With a combined expertise in performing and visual arts, creative direction and music curation, community building and impact strategy, TRIADIC's mission is to expand audience connection through unconventional and collective experiences.
About OZ Brands
OZ Brands is a community brand group dedicated to inspiring exploration of Northwest Arkansas. Made up of OZ Art, OZ Trails and Fly OZ, OZ Brands brings people the best of the heart of the region. Whether riding the unique Ozark trails, perusing the halls of world-class art museums, or taking to the sky for a backcountry adventure, there's nothing quite like the land of OZ. The brand signifies year-around adventures like flying, discovering art, riding, running, hiking and beyond in the Ozark mountains.
About Crystal Bridges Museum of American Art
The mission of Crystal Bridges Museum of American Art is to welcome all to celebrate the American spirit in a setting that unites the power of art with the beauty of nature. Since opening in 2011, the museum has welcomed more than 6.2 million visitors, with no cost for admission. Crystal Bridges was founded in 2005 as a non-profit charitable organization by arts patron and philanthropist, Alice Walton. The collection spans five centuries of American masterworks from early American to current day and is enhanced by temporary exhibitions. The museum is nestled on 120 acres of Ozark landscape and was designed by world-renowned architect Moshe Safdie. A rare Frank Lloyd Wright-designed house was preserved and relocated to the museum grounds in 2015. Crystal Bridges offers public programs including lectures, performances, classes, and teacher development opportunities. Some 300,000 school children have participated in the Willard and Pat Walker School Visit program, which provides educational experiences for school groups at no cost to the schools. Additional museum amenities include a restaurant, gift store, library, and 5 miles of art and walking trails. In February 2020, the museum opened a satellite contemporary art space in downtown Bentonville called the Momentary (507 SE E Street). For more information, visit CrystalBridges.org.
About the Momentary
Opened in February of 2020, the Momentary is a contemporary art space in downtown Bentonville, Arkansas, for visual, performing, and culinary arts. The mission of the Momentary is to champion contemporary art's role in everyday life and explore the unfolding story of contemporary American arts in an international context by actively commissioning and exhibiting outstanding works that explore new ideas and inspire action. The Momentary was founded by the Walton family, based on the vision of Tom, Olivia, and Steuart Walton. The Walton Family Foundation is supporting this project as a way to enhance the quality of life in Northwest Arkansas. The Momentary is a satellite to Crystal Bridges Museum of American Art, founded by Alice Walton. The Momentary welcomes all with free general admission. Additional offerings include an artist-in-residence program, culinary experiences including an Onyx Coffee Lab and the sky-high Tower Bar, indoor and outdoor gathering spaces, an outdoor festival space, and a gift store. For more information, visit theMomentary.org. The Momentary's Founding Funders are Walton Family Foundation, Walmart, RØDE Microphones, The Coca-Cola Company, Tyson Family Foundation, and Willard and Pat Walker Charitable Foundation. More at theMomentary.org.
Media Contact:
Sandee Fenton / [email protected]
Art Media Contact:
Ali Rigo / [email protected]
2023 FORMAT Festival Press Application