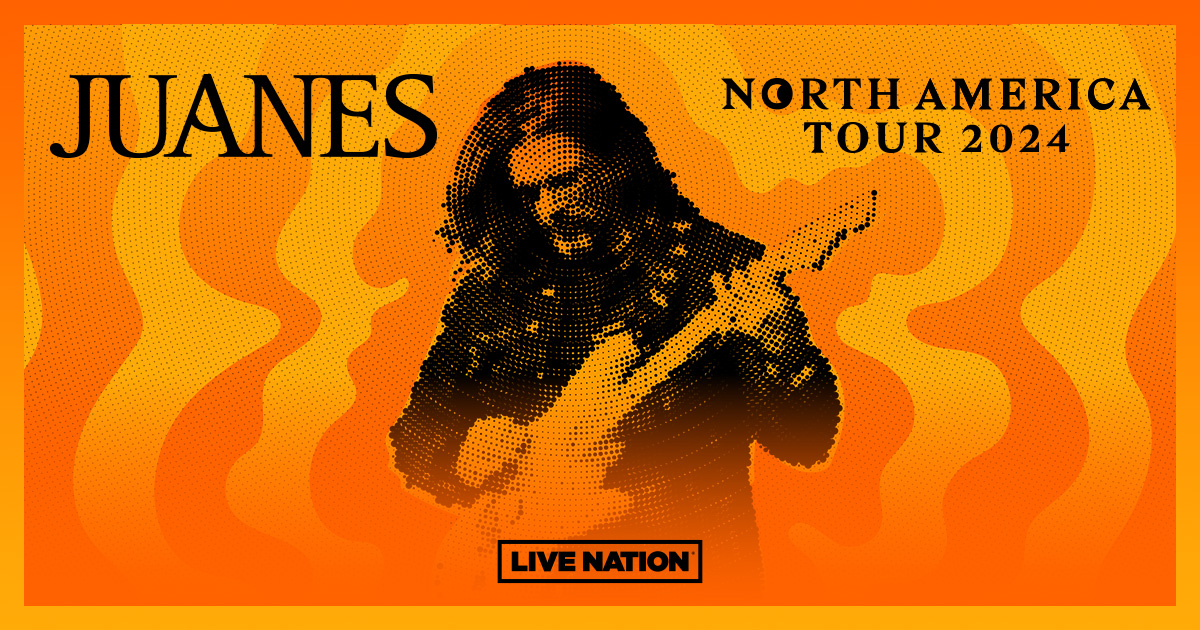 Presale Tickets Available Starting Nov. 7 at 10AM Local Time; 
General Onsale Begins Nov. 9 at 10am Local Time on LiveNation.com
Also Watch For JUANES To Perform On The November 16th LATIN GRAMMY AWARDS Broadcast – Where He Holds Multiple Nominations Including Album Of The Year For Vida Cotidiana
Today, Latin rock icon and Twenty-Seven-time GRAMMY & LATIN GRAMMY award-winning artist Juanes announced the eagerly awaited February & March 2024 North American dates of his widely praised Vida Cotidiana World Tour. The powerful rock guitar-driven tour will be both an immersive journey through the career greatest hits of the Colombian superstar, combined with show-stopping live renditions from the artist's landmark 11th studio album- just re-released in a new extended/deluxe edition.
Produced by Live Nation, the 27-date North American tour run will kick off February 13th in Portland, OR, and travel across the continent to a March 30th finale in Hollywood, FL. Along the way, the tour will reconnect Juanes with his passionate fans in cities such as Los Angeles, San Diego, Las Vegas, Chicago, Montreal, Toronto, Houston, Dallas, Boston, and many more – as well as a 'Mark the Calendar' March 14th date at Radio City Music Hall in New York – where over 17,000 fans stretched well over the length of a dozen city blocks, turned out at Central Park Summerstage in July hoping to see Juanes' Vida Cotidiana live show – marking "the first time in 30 years SummerStage was required to stop a concert in progress for a non-weather related issue". 
"I feel this has already become my artistically strongest and most enjoyable tour. Having begun this creative cycle with all my core band members taking part in the recording process has brought extra levels of musical cohesion and sheer joy of playing to the stage, and the audiences have sensed this and joined us in the celebrations. We are genuinely looking forward to kicking some ass across North American stages early next year.. and we know how!", explains a smiling Juanes   
Vida Cotidiana is built upon a fusion of Juanes early rock and folkloric influences, with the introspective examination of a matured, master songwriter delving deep into a thoughtful adult's 'Day to Day Life' concerns – ranging from through evolving perspectives on love, marriage & family, to his country & community. This also marked  the first-time members of Juanes' long-time touring band were totally immersed in the album recording, which now brings even an additional level of musical solidarity to the live presentation. The resulting collaborative work unquestionably delivered a new creative pinnacle in Juanes' distinguished career and has found NPR, Billboard and Rolling Stone declaring  that "VIDA COTIDIANA" is  his 'Best, Most Soulful & Personal Album Yet'  and among 'The Best Latin Music of 2023'. The album's recent recognition by members of the Latin Recording Academy has also led to multiple nominations– including ALBUM OF THE YEAR, BEST POP/ROCK ALBUM & BEST ROCK SONG, and another performance invitation for the November 16th global broadcast of The Latin Grammy Awards.
TICKETS: Tickets will be available starting with a Citi presale (details below) beginning on Tuesday, November 7. General onsale begins Thursday, November 9 at 10am local time on LiveNation.com.
PRESALE: Citi is the official card of the "Vida Cotidiana Tour. Citi cardmembers will have access to presale tickets beginning Tuesday, November 7 at 10am local time until Wednesday, November 8 at 11:59 pm local time through the Citi Entertainment program. For complete presale details visit www.citientertainment.com.
– – – – – – – – – –
TOUR DATES:
Feb-13-24                   Portland, OR                           Roseland Theatre
Feb-14-24                   Seattle, WA                             Moore Theatre
Feb-16-24                   Santa Ynez, CA                      Chumash Casino**
Feb-17-24                    Reno, NV                                Grand Theatre at Grand Sierra Resort
Feb-18-24                   Wheatland, CA                       Hard Rock Live
Feb-21-24                   Highland, CA                          Yaamava' Casino
Feb-23-24                  Los Angeles, CA                    YouTube Theater
Feb-24-24                  Las Vegas, NV                        Pearl Concert Theater at Palms Resort
Feb-25-24                  San Diego, CA                        The Magnolia Theater
Feb-27-24                   Phoenix, AZ                            Arizona Financial Theatre
Feb-28-24                  Tucson, AZ                             Rialto Theatre**
Feb-29-24                  El Paso, TX                              Abraham Chavez Theatre
March-06-24              Milwaukee, WI                        The Rave**
March-07-24               Chicago, IL                              Chicago Theatre
March-09-24              Montreal, CAN                       MTELLUS
March-10-24               Toronto, CAN                         History
March-13-24                Philadelphia, PA                     The Fillmore Philadelphia
March-14-24                New York, NY                         Radio City Music Hall
March-15-24               Boston, MA                             Orpheum Theatre
March-17-24                Charlotte, NC                         The Fillmore Charlotte
March-21-24               Houston, TX                            713 Music Hall
March-22-24               San Antonio, TX                     Aztec Theatre
March-24-24               Dallas, TX                               Majestic Theatre
March-27-24               Tampa, FL                               Seminole Hard Rock Tampa
March-28-24               Atlanta, GA                             Coca Cola Roxy
March-30-24               Hollywood, FL                        Hard Rock Live
** Non-Live Nation Dates
– – – – – – – – –
"Juanes' live show is… a daring rock production…  and  a 'don't miss' event,
His concerts confirm Juanes as the rare artist — in company with the likes of U2, and Bruce Springsteen — with the power to inspire beyond the [venue] walls." – Los Angeles Times
"Whatever you do, don't miss the chance to check Juanes out when he comes your way" – ABC News
"Vida Cotidiana' Is [Juanes'] Best, Most Soulful Album Yet… Juanes is making music exactly how he wants to, as he taps into his expert musical reflexes and chronicles the personal and social issues that permeate daily life… made up of original songs charged with new energy and some of Juanes' best writing with the live-in-the-studio gravitas of a studious guitar player… Vida Cotidiana stands as Juanes' most sincere effort to date… and SHOULD WIN The Latin Rock or Alternative Grammy –  Rolling Stone
"For the Colombian rocker known for his deep and honest lyrics about love and social commitment… his introspective journey on 'VIDA COTIDIANA'  is [even] more mature and fascinating." – Billboard
"A Deeply Personal Record… an element of catharsis is woven into the songs and stories that make up 'Vida Cotidiana' ('Everyday Life')… Juanes returns to his roots [as] immersive electric guitars cascade into swooning chorus lines about his personal struggles in marriage, while other tracks exercise man-against-the-world frustrations." – Variety
"The Colombian icon is slinging his guitar like his early days… With the most raw and raucous music of his career, he is hitting his stride as one of Latin America's most enduring and influential rockers"- Remezcla 
For More Information on Juanes Please Visit:
www.juanes.net – https://twitter.com/juanes – www.facebook.com/juanes
http://instagram/juanes – www.fundacionmisangre.org/en
About Live Nation Entertainment
Live Nation Entertainment (NYSE: LYV) is the world's leading live entertainment company comprised of global market leaders: Ticketmaster, Live Nation Concerts, and Live Nation Sponsorship. For additional information, visit www.livenationentertainment.com.
MEDIA CONTACTS:
Juanes Team
English Media: John Reilly | [email protected]
Spanish Media: Mónica Escobar | The 3 Collective | [email protected]
Live Nation Concerts
Nadia Hernandez | [email protected]